We Are An
Animated Explainer Video Company 
We help you increase conversions. Engage your audience. Grow your business.
It's time to outshine your competition. Be one of a few in your industry using animated explainer videos to guide prospects to the next step and get real results from your marketing dollars.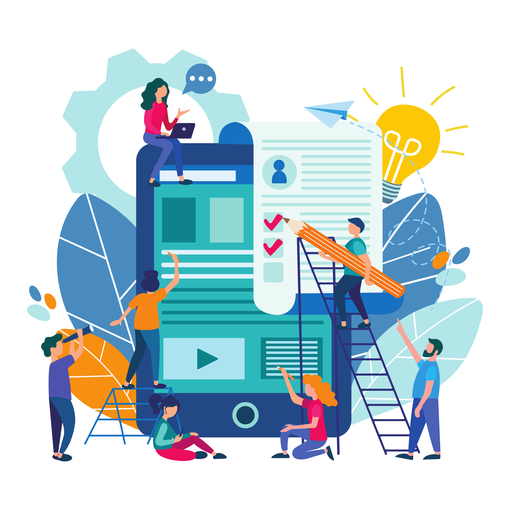 Explainer Videos
New product or system or complex pitch? There is no better way to explain something new or complex than with a visually powerful explainer video.
Animations For Social Media
Perfect way to inform, inspire and persuade your customers with a lasting impression with short animations for LinkedIn, YouTube, Facebook, Twitter and Instagram.
How-To Videos

Most of us are visual learners. Explain how to best use your product, and promote ease of use in an animated how-to-video.
Internal Company Videos
Welcome your new team members with an exciting video that inspires and empowers them or communicate new initiatives to your team.
Training Videos
Remember the days when teaching took place in a classroom, face-to-face? They are gone. Enter, white board animation. Cost effective, safe and crafted to perfection.
Customer Services Videos
Support your prospects and customers with a video that answers all their questions and gives them the information they need – so you don't have to.
The Anatomy of The Perfect Animated Explainer Video
At Flux Animations, we do more than make animated videos. We use a proven formula to create interesting animated explainer videos using the latest video technology. Our experience combined with our knowledge of what makes the perfect animated video, helps you showcase why your customers should ONLY choose you. Detailed, dedicated, and skilled, you can trust our team to produce a video your customers won't forget.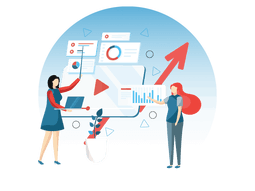 Our Approach to Your Custom Explainer Video
We start by listening to what your brand is saying, and then build a unique explainer video that accurately represents your message.
Secondly, we home in on your buyer persona. This is the person who wants your product but might not know it yet. Our job is to infuse the right color schemes, tone of voice, and story to help them see it. Every detail of our animated video is aimed at making the best impression on your viewer.
Finally, when we get inside your buyer persona's head, and fully understand the elements you want to convey, we get started on the story. This step requires scripting, storyboarding, vocals, and ultimately the animation process itself. Along the way, we work with you to guarantee you get the best animated explainer video possible—including a power-packed pitch! The result is a piece of video marketing art you'll want to use on every marketing channel you have.

Tell A Story Worth Remembering
As storytelling experts, we take your messaging and turn it into an inspiring story that gets your prospects to click the "buy" button or take the next step. We've done it for some of the world's most complex brands, and we can do it for yours, too.

Cut Through the Noise with Video Marketing
It's time to show your audience exactly why they should choose you over your competitors. Our singular focus is to deliver results for your business. Talk to us about what you hope our video does for you and we'll make it happen. Video marketing is what we do. And our results-focused approach is proven to work.
To cut through the noise your prospects are bombarded with daily, you have to do something really special. Something that captures their attention. To do that, you have to do more than throw pretty graphics at them. You have to tell them a story worth listening to. Let our creative geniuses take the wheel and steer your business straight into the arms of your prospects.
Ready To get Started?
Landing pages with video can increase conversion rates by up to 80% (FunnelScience)
88% of visitors stay longer on a site with prominent video displayed (MistMedia).
The chance of a page one listing on Google increases by 53 times with a video (Forrester Research).
Video in email marketing campaigns increased clickthrough-rates by 96% (Implix).
DISCOVERY
Choose you style and length, make your purchase and download your questionnaire. Complete your questionnaire and email it to one of the team, or info@fluxanimations.com

SCRIPTING
This is where we start writing the best script you could ever imagine. Our professional script writers have decades of creative experience in video marketing, product and services branding.

STORYBOARD
At this stage, our designer steps into the process and creates basic drawings of what each scene from the video will look like. The visual illustration will give you a glimpse of your final explainer video.  We generally take 3-5 working days (exclude weekend)  to deliver the first version. 

VOICEOVER
We offer a wide selection of voice-over artists fluent in English and many other languages.  You can select the preferred accents from our talented pool of VO artists in the file attached to the questionnaire after you have made the purchase.  Please ensure your script for the narration is final, there will be additional cost if you want to change after it has already produced.

ANIMATION
The most demanding and work-intensive stage of the process. Here, we bring your video to life.  Sit back and be ready to be dazzled.

FINAL DELIVERY
We're here! This is the moment we've all been waiting for. We can send your video in the format of your choosing: optimized for Youtube, mobile, or really anywhere. Now go watch it, post it, and know that your video is exactly what you were looking for.

1. Purchase your desired style/length and complete our questionnaire
Purchase or contact us to see if we are right for each other.
2. Scripting (3-5 days)
Expert copywriters  produce a potent script  that communicates your message perfectly.
3. Voiceover (3-5 days)
Professional voice over artist bring your script to life grabbing your audience's attention.
4. Animation (5-7 days)
Professional animators vivify your voice over to resonate and engage your audience for enhanced message absorption.
Brock Freeman - Kirkland Capital Group

"We were pleased with the end result that Flux Animations produced for the Kirkland Capital Group. We were able to express what is a complex issue around investing in a more accessible way to non-investment professionals. We look forward to using the animation to drive better understanding and more investors to our fund" (23 January 2021)
Guy Meisl - Simply Questions

"I have had two great video projects produced by BJ and team, I cannot recommend the final output highly enough. The finished projects are really effective and will be great sales tools for me in these changing times. To be able to use short form video helps with both engagement and promotion, so thanx BJ, I look forward to our next collaboration, I will be back for more." (29 September 2020)
Alex Beldiman - Bluerock Design Studio

"BJ and his team were extremely responsive, open and willing to go the extra mile for delivering the service right on time, despite all the tweaks we requested along the process. We are super satisfied with the final result, everything works flawlessly. The solutions delivered by Flux Animations are here to stay, sustainable on the long term for our agency and for our brand!" (25 January 2021)
HOW DO I GET STARTED?
Once you know which package and style you'd like to start with, go to the package menu and select your desired package.  You will then be directed to our payment processing page to use Paypal, Visa, Mastercard, or American Express.
After purchase, one of our team members will email you our on-boarding questionnaire.  
HOW DOES IT WORK?
Once you've placed your order and completed our questionnaire we'll move through script, voice-over, storyboard and animation in an average period of 2 or 8 weeks depending on the package. We'll assign a project manager to your video, who will guide you through the process. 
CAN I GET A LONGER VIDEO?
Yes, our videos come in different length.  If you want to have a video longer than 3 minutes, please email us at info@fluxanimations.com
HOW ABOUT REVISIONS?
Once we've finished each of the steps, you will be given 2 rounds of revision in each stage (unlimited revisions for Premium Package). Please refrain from sending us changes 1 by 1, instead, compile a complete list of changes you require.
HOW MUCH CONTENT CAN FIT IN 30 SECONDS?
A 30 second script is 75 words, so we can usually fit the following sections: Problem Definition, Solution, Call To Action. But don't worry, if you want to make your video longer during production, we can expand the length and budget with your approval.
HOW LONG IS THE PRODUCTION PROCESS?
Our videos typically take between 2 – 8 weeks, depending on complexity. The varying timeframe depends on how well our two teams communicate and the number of revisions for each stage.
DO YOU OFFER DISCOUNT?
Our price is already 50% lower than the market.  However, if you're purchasing more than three videos, then yes we do offer a 10% discount. 
HOW WILL WE COMMUNICATE?
We mainly communicates via email but if face to face is required, Skype and phone calls will be accessible.
WHAT FORMAT IS THE VIDEO?
We can deliver in any kind of format you require. By default, it will be in Full HD (1920 x 1080) format.  If you need any other video format, or if you are unsure, please let us know so we can advise you.
I WANT TO TALK TO SOMEONE FIRST...
Of course! email info@fluxanimations.com and we will answer any questions you may have.